ELCOTRONICS offers professional, fast, economical data recovery caused by hard drive crash, software corruption, a computer virus, human error, or a natural disaster. Our experience and technology gives you an optimal solution at a minimal risk.
In well over 95% (Proven Track Record) of all incidents we have been most successful in assisting clients with data recovery from damaged hard disk drives. In many such cases, our customers own IT departments have considered the hard disk damage as irrecoverable !
ELCOTRONICS Data Recovery Capabilities such as:
Failure of electronic components, fire/water damaged drives.
Flash/SSD Flash drives data recovery, with the state ofthe art data reconstruction by reading individual NAND flash chips or accessing the controller chip directly
Mechanical failure such as burn out spindle motor, head crash, unusual sound (clicking), bearing seized up, Pre-Amplifier burn out.
Accidentally dropped external Hard drives recovery where most likely the Head Disk Assembly and/or Motor is seized.
Firmware corruption and damage to System Area.
Accidental format, deleted or damaged partition.
S.M.A.R.T. failure (Self-Monitoring, Analysis, and Reporting Technology) Exceeding threshold due to weak heads of failed heads.
Unrecognised or wrongly recognised hard drives or not detected in BIOS.
RAID drives all levels recovery on all platforms, Unlock all ATA hard drives password locked.
Supported Storage Media for Data Recovery:
Desktop/Laptop Hard disk Drives
SSD Drives all makes and Models
RAID drives recovery, all types.
USB / Firewire external HDD
All Digital camera memory cards
USB Memory stick/Thumbdrives
and many more...
Supported Operating Systems:
All Microsoft Windows O/S
Apple Mac O/S
Linux O/S
The Process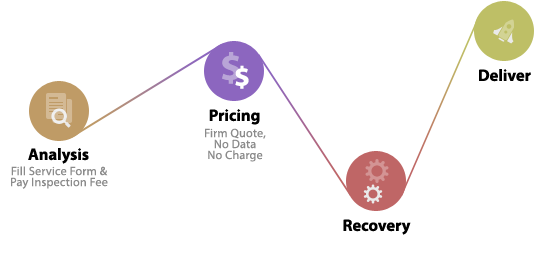 Data Recovery Service Order Form
Download
Shipping Address Printout Form
Download